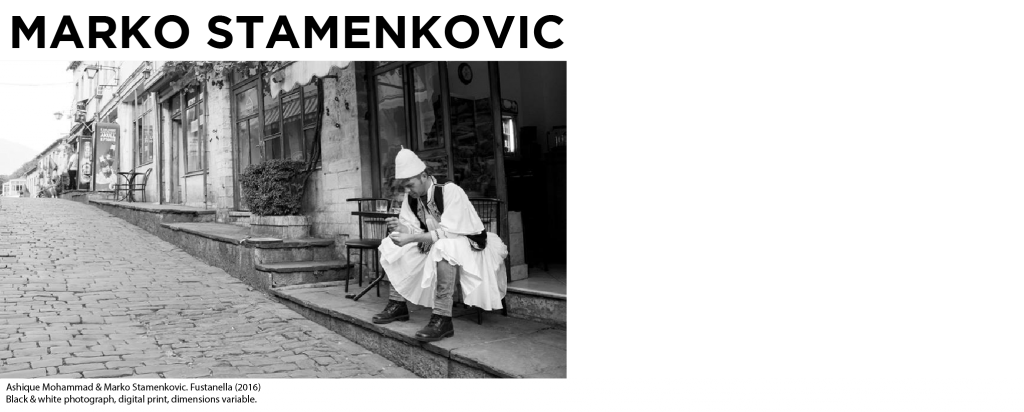 Marko Stamenkovic (1977) is an art historian from the south of Serbia whose interests revolve around the political rationality of image-making in a global context. Over the last decade, he has been working primarily in the field of contemporary arts as a curator, critic, writer, and lecturer focusing on the intersection of visual thinking with social theories, political philosophies, and cultural practices of the oppressed. For him, curatorial research has the potential to invoke neglected or overlooked aspects of human existence while expanding the limits of our awareness about what is conventionally unknown, unspeakable or unrepresentable.
His talk at the Centre for Openess and Dialogue will deal with the notions of power, masculinity and ethnicity in the Balkans. As a starting point, he will introduce a black-and-white photograph titled 'Fustanella' and created together with the urbanist and photographer Ashique Mohammad (1992, Dhaka, Bangladesh), who will join the discussion. 'Fustanella' denotes a white pleated kilt that makes part of the traditional clothing for men in Southeastern Europe: but what does it feel like nowadays for a foreigner to expose himself publicly in this 'feminine', skirt-like garment, especially if he happens to be a Serb in Albania?
FUSTANELLA
The last days of summer, or the beginning of autumn, somewhere in the Balkans… To the left, a cobbled street climbing steeply through the chain of little stores. To the right, a male figure sitting in front a tavern, with a glass of raki on the table next to him and a cigarette burning in his hand. Nothing unusual for an Ottoman-style bazaar area, nothing unusual for 'Middle Eastern' cities of the European south… The man's appearance, featuring a skirt-like white garment, neither a dress nor a coat but both at the same time, gives an odd impression, though: notably when combined with a pair of black military-style boots, the jeans he is wearing beneath, and a conical white hat (qeleshe) on his head. In his pensive pose, homeless though at home, calm yet still somewhat sad, he is a foreigner inscribing himself into the chronicle of a stone city: where male kilts are still believed to have the magic power so they can help erase a normative gender-divide as much as they can communicate the need to have inter-ethnic divisions restored – to the point of personal (and hopefully collective) reconciliation with the 'inferior Other'. 
BIO
Marko Stamenkovic was born in 1977 in Vranje, Serbia. He graduated in History of Art from the University of Belgrade with the thesis The Theory of Gaze and Image Analysis (2003) and earned his M.A. degree in Cultural Policy from the University of Arts in Belgrade with the thesis The Status of Curatorial Practices in Post-Socialist Conditions (2005). He also holds a PhD in Philosophy from the University of Ghent in Belgium with the thesis Suicide Cultures: Theories and Practices of Radical Withdrawal (2014). Since early 2000s, he has curated projects and exhibitions in Serbia and abroad and has contributed to numerous publications, including theoretical readers, cultural journals, artist books and exhibition catalogues. He is also regularly invited to give public talks at universities, art academies and cultural venues. His most recent projects include the exhibition Put Your Faith in Women (Galerie Michaela Stock, Vienna) and a series of public talks Hello From The Other Side: Europe, Migration, and The Emperor's New Clothes.