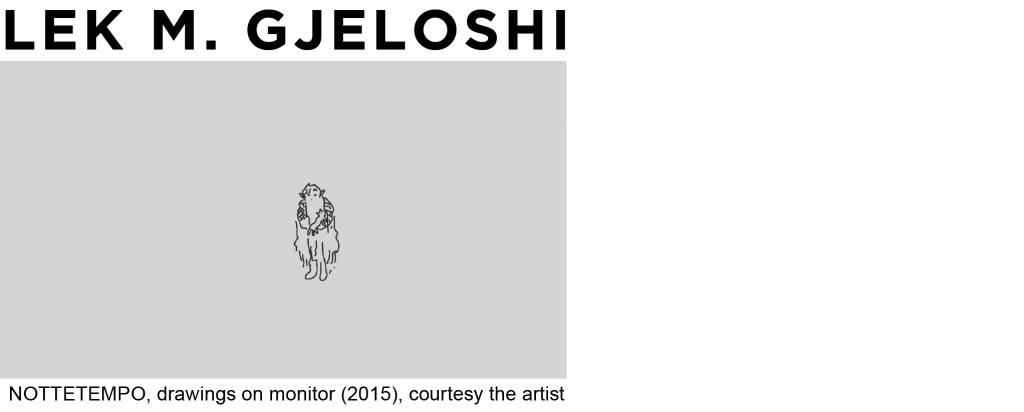 Born in Shkodra, Lek M. Gjeloshi leaves the city to go and study art in Italy, Florence. More influenced by the local accent then the renaissance, in time, he starts creating his own athroposcene in gallery spaces. Gjelloshi talks about very complex, everyday subjects, translatable in philosophy with terms such as: multiplicity, becoming, heterotopia…Concepts that become easily available when they enter in direct dialogue with his works. Through his works, the 'being' is enclosed in a filmic process and narrative becomes, at times, a sensorial experience.
At COD | Artist Talks, Gjeloshi will introduce us his approach and methods for the creation of environments in gallery spaces, starting from his last solo exhibition in Shkodra going back to previous interventions in different exhibition spaces.
Exhibitions include:
OFF-CELLS, Civic Gallery, Shkoder, solo exhibition, 2016
Ich will (2010), Untitled (2008), Untitled 2 (2016), Kreuzung der vögel (2015), In other words (2016), Scenopoietes dentirostris EP [A.k.a. Bird in space] (2015), Unknown [Preparatory study for a short action] (2013).
Off-cells is the title of the exhibition recently realised at the Civic Gallery in Shkodra which sees different works produced by Gjeloshi between 2008 and 2016. The title is inspired by a text by Giorgio Agamben in which the author reflects about the relationship between the 'contemporary' and its own time. Off-cells are peripheral and uninhibited cells of the retina through which, according to neurologists, we can perceive darkness as it is, and not as a lack of light. It is exactly that intimate perception of darkness of its own time that, according to Agamben, a particular vision of contemporaneity is characterised by.
A.K.A. RESISTANCE, site-specific, 2012
In his installation Aka Resistance, Lek approaches the dilemma of silence in an evocative, auditory and tactile way. The floor of his space is covered with layers of plastic bubbles, which make small explosions when one walks across them; high on the wall, in a continuous row, are threatening spikes of the kind used to keep birds from settling on buildings. A suggestion of music is made in the mute photograph of the blind accordion player from Federico Fellini's film Amarcord (1973) that is hung on the wall. Like a butterfly pinned on a board, here memory has been collected and transfixed in a disquieting, poetic vacuum. (Text by David Elliott, 2014)
TU KÙUR, film / site-specific, 2013
At Casa Masaccio (a Center of contemporary art in Tuscany), in an exhibition based on the Idea of projection (Proiezioni 2013), Gjeloshi decided to intervene in the space by screening a film by Béla Tarr Sátántangó (1994), that beyond a very strong apocalyptic vision has, also, a particular length of 7,5 hours. As the artist says 'I tried place the schedule of this film in conflict with the daily time schedule of the exhibition that which did not allow the possibility for a complete vision of the film for the audience. As a consequence, the end, was always postponed, making the conclusion of a story, or more essentially the fulfillment of a destiny, impossible.'
NOTTETEMPO, drawings, 2015 (in progress)
This ongoing series of drawings are made to bring back scenes from Béla Tarr's films, in particular the scene of Werckmester Harmonies (2000). The drawings are entirely hand made by the artist with the touch of the fingers with the luminous surface of the screen, by memory. With this gesture, from time to time, something is added or taken away, arbitrarily, from the same film scene.
ABOUT THE ARTIST
Lek M. Gjeloshi (1987) was born in Shkodra in Albania. He completed his studies at the Fine Art Accademy in Florence (Italy) where he lives and works. In 2016 he made his first solo show at the Civic Gallery in Shkodra (AL) followed by another one in Villa Romana in Florence (IT).  Selected collective exhibitions include: "Nuovo Cinema Masaccio" (2014), "Fuori Posto" (2013), "Proiezioni 2013" e "Lontano da dove?" (2012) curated by Pier Luigi Tazzi, "A time for dreams" (2014) curated by David Elliott e "Terranauti" (2015) curated by Ilaria Mariotti and Angelika Stepken. In 2015 Gjeloshi was the winner of 'Idromeno' the national price for visual arts.