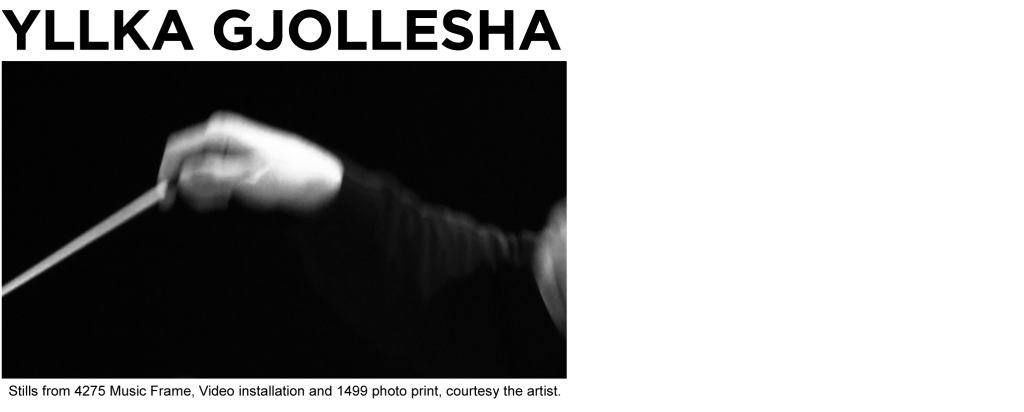 Yllka Gjollesha (1985, Tirana) uses mixed media and film making to produce through her work an experience made of poetic instances, or as the artist states 'fragments of times … where is very hard to find a point of reference'.
In Gjollesha's visual work emotions are bonded to a notion of intimate silence, impossible to reach in reality but almost perceptible with the way she conducts the video camera. We don't know if time compresses or rather explodes when we are with her works. What is sure is that we do not get lost because Gjollesha's leads us inside the delicate dimension of what often goes unnoticed or better, unperceived, in public moments and spaces of everyday life.
At COD Gjlollesha will talk through her video works Mute, Flag and 4275 Music Frame focusing on the notion of "Ad libitum" which is the Latin for 'at one's pleasure'. The term is used in music when the conductor can execute his part independently from the music score, or in theatre and actor can speak 'ad libitum' when he can go beyond the text and improvise.
How do we think about the term 'Ad Libitum' in relation to contemporary Albanian Post Communist society?
The following works will be presented between the Forum Room and the Digital Area of COD. Visitors are welcome to experience the works in show between 6:30 and 7 when the artist will conduce the audience to her talk until 8pm.
MUTE
Video 7' 26, 4:3 standard (2013)
In Mute the symphony orchestra of Albanian Public TV is playing one of the most important works of Bach. The viewer is found before the action happens. Gestures and visual movements
emerging from this 'mute' scene embeds the lonely, silent experience of the communicative dynamics of a symphony orchestra.
THE FLAG
Video, 10' (2012)
The national flag is commonly thought as one of the most important, almost 'sacred' symbols of a country. Gjollesha, in this piece is attempting to notice and unnotice, cover and reveal elements that make the object of the flag alive or hidden, clear or fragmented.
4275 FRAME MUSIC
HD, Video installation, 1499 photo print (2016)
A track selected from a classical repertoire. The conductor is conducting, for one minute in 1499 musical frame. Every movement, every music frame, forms a newly branded score, stripped away from its origins, driven towards an uncontrolled distribution.
ABOUT THE ARTIST
Yllka Gjollesha was born in 1985 in Dibra, Albania and is currently based in Tirana.
Among other exhibitions include: Albanian Contemporary Artist Salon , MuCEM Marseille, France (2016)
ACAS, Albanian Contemporary Artist Salon, National Museum, Tirana, Albania 2015 A Live Art Channel, Savina Gallery, Moscow, Russia
Parallel Vienna 2015, Vienna , Austria
Imago Mundi, Benetton Foundation Project, Albania (2015)
"Music Talks" Galerie Im Tralkhaus, Salzburg, Austria (2015)
"Synthesis" Museo Pino Paskali, Italy (2015)
"POPup Apen" Manhattan, New York, USA (2013)
"A day like any other" Zeta Gallery, Albania (2015)
"Tirana Open 1" Piramyd, Tirana, Albania (2015)
"Post New Albania Artist" Museo Pino Paskali, Italy (2014)
Solo Show "TIME" solo exhibition FAB Gallery, Tirana, Alb (2014)
"Young Albanian Filmmakers Festival" NY, USA (2013)
"Perchenge to dream" Onufri, National Art Gallery, (2012)
"For those who cannot enter" Zeta Gallery, Tirana, Alb (2008)